National Park Gateway Stables
CLOSED For Season


The National Park Gateway Stables is located at the edge of Rocky Mountain National Park at the Fall River Entrance or North Entrance and just next to the Fall River's Visitors Center and Gateway Store. All rides go into Rocky Mountain National Park
Rides Available at National Park Gateway Stables: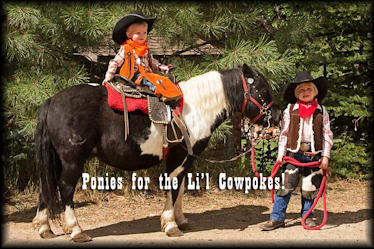 Your kids will have a blast with our pony rides. They will want to come back to ride again and again. It?s the perfect place to introduce your little ones to horseback riding and farm animals! Our ponies are well maintained, all rides are hand led, making the rides as safe and fun as possible. Appropriate ages for these rides are 2-7 years. Young children may need an adult or parent to walk alongside them. Stop in for a 10 minute or 30 minute ride. We do have a weight limit for our ponies, and any child over the age of 4 is able to ride by themselves 'in tow' behind the wrangler on our trails. (You must be UNDER 50 pounds to ride the ponies.)
30 Minutes around nearby trails: $25
10 Minutes around nearby trails: $15
Available daily from 8am to 5pm
No reservation needed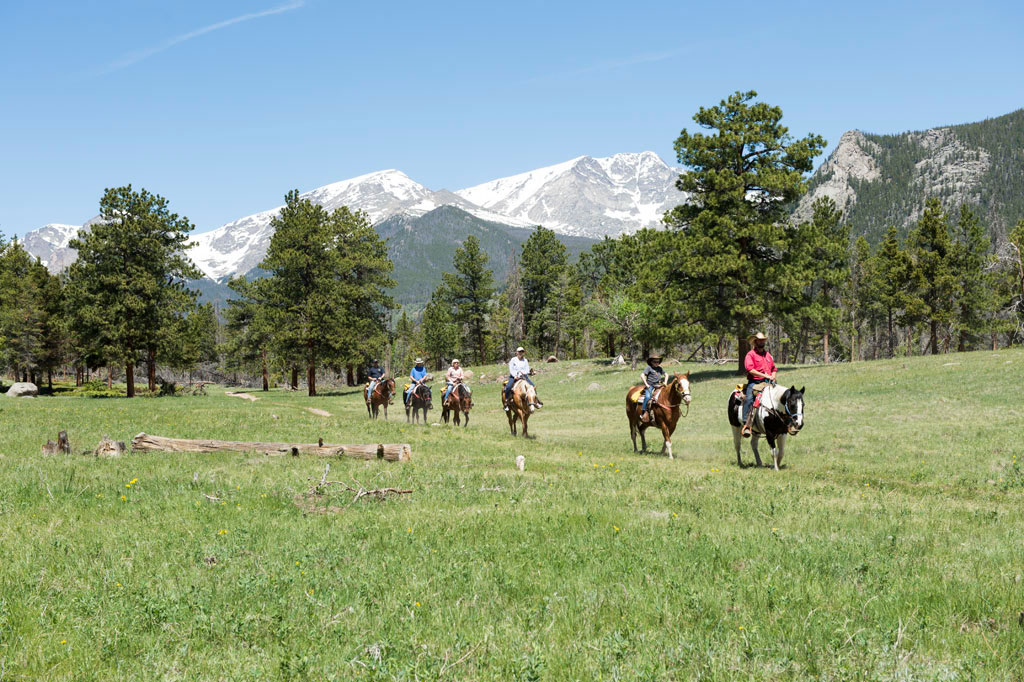 The 2 hour ride, follows the Fall River to the base of Deer Mountain and Aspen Glen area into Lil Horseshoe Park and Hidden Meadows. Wildflowers dot the area, surrounded by the snow-capped Mummy Range. This ride is great for all ages and safe for all levels.
2-Hours through Little Horseshoe Park
Departs hourly 8am-5pm: $60
Call to reserve your ride: 970-586-5269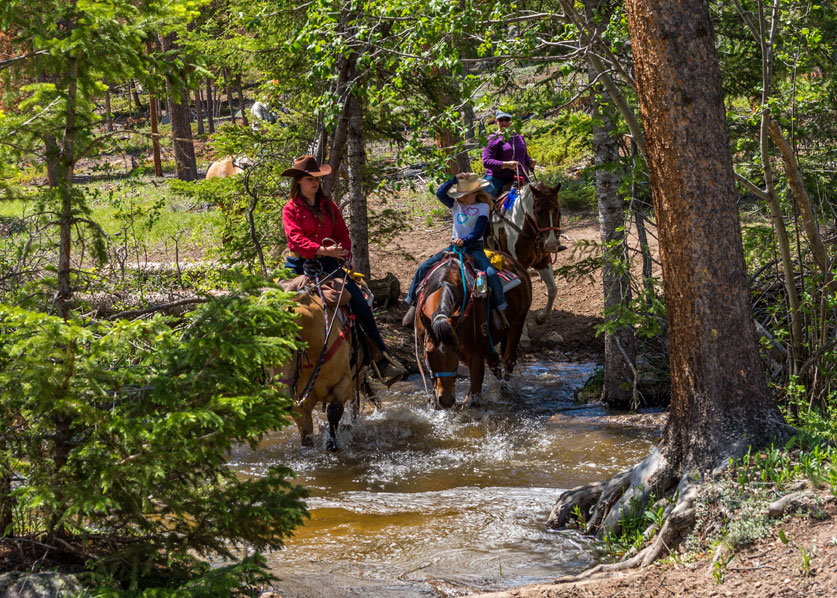 Our half day ride or 4 hour ride is a leisure paced, relaxing tour on horseback of Horseshoe Park to Endo Valley. Crossing several streams, the Fall River, and viewing some of the after effects of the Lawn Lake Flood in 1982 and the 2013 floods. this gives you a view of the sheep lakes in Horseshoe Park and a close-up encounter of one of "Rocky's" most popular areas. This 4 hour ride is a good fit for school aged kids or above and good for any skill level. Pack a snack or hike to the Alluvial Fan area during your 15-20 minute break in Endo Valley.
Half day (4 hours) to Endo Valley
Departs twice a day at 8am and 1pm: $90
Call to reserve your ride: 970-586-5269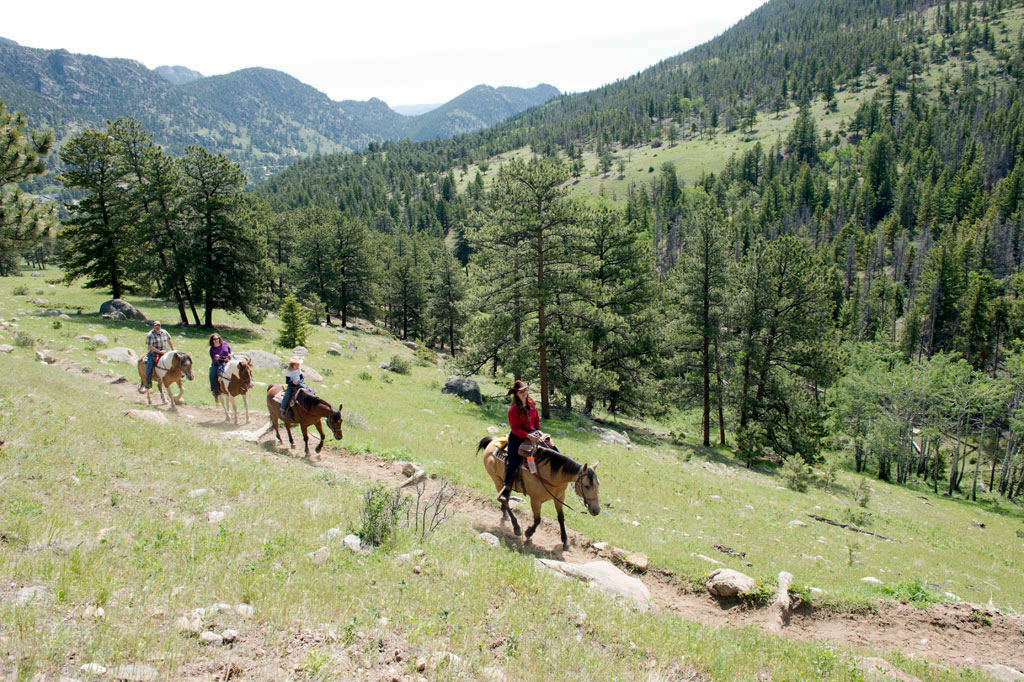 Our 6 hour ride climbs to an elevation of around 10,000 feet to the summit of Deer Mountain providing a spectacular, breathtaking panaroma view of the Continental Divide and the Estes valley. Pack a lunch and enjoy it at the top. This ride is good for middle school aged or above and people of any skill level. Being in good physical shape is recommended.
6 Hour ride up Deer Mountain
Departs at 8am: $130
Call to reserve your ride: 970-586-5269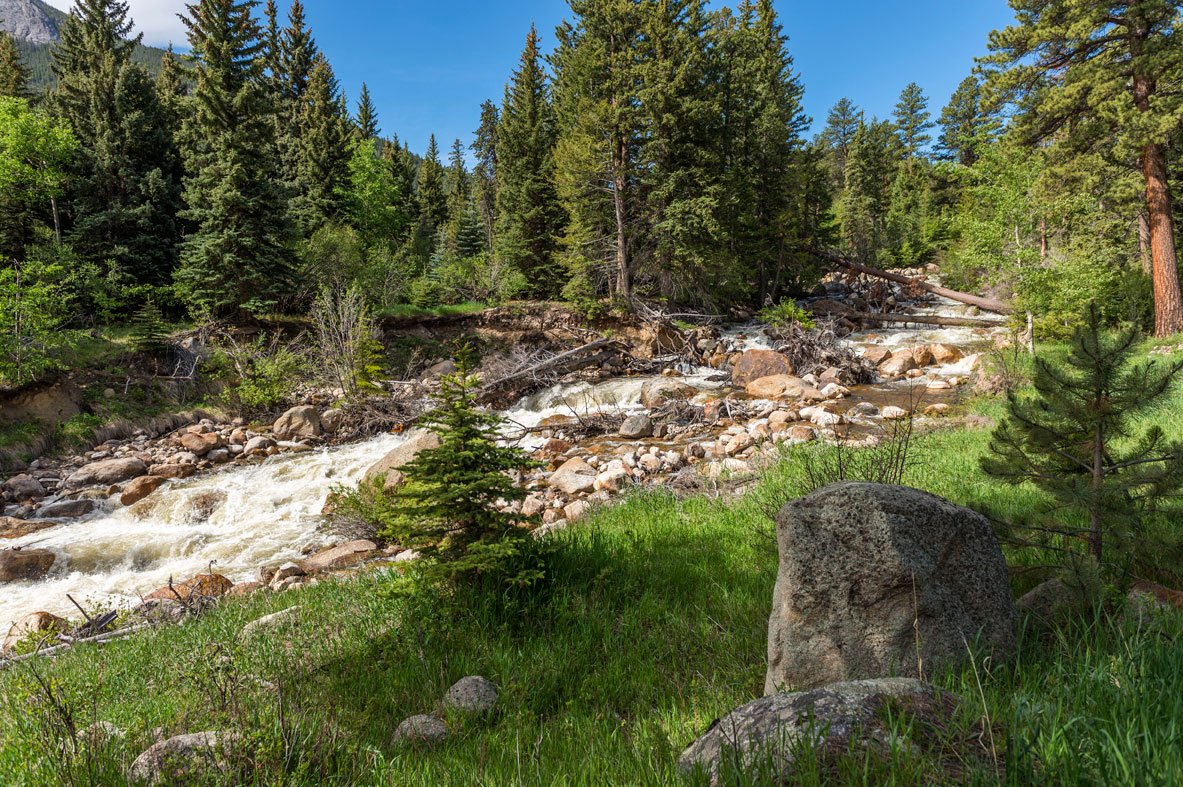 Our Full day rides go to Yplison Lake or Lawn Lake in a 8 or 9 hour ride. These rides are for the adventurous spirit or the true horse lover. The trail goes through Horseshoe Park and along the Roaring River up Big Horn Mountain and eventually climbing either Yplison mountain or Mummy mountain to the 2 different sparkling high elevation lakes. Pack a lunch and picnic at close to 11.000 feet above sea level. Riders must be in good physical shape, and have some riding experience. Jackets are recommended.
8 Hour ride to Ypsilon Lake via Roaring River
Departs at 8am: $200
Call to reserve your ride: 970-586-5269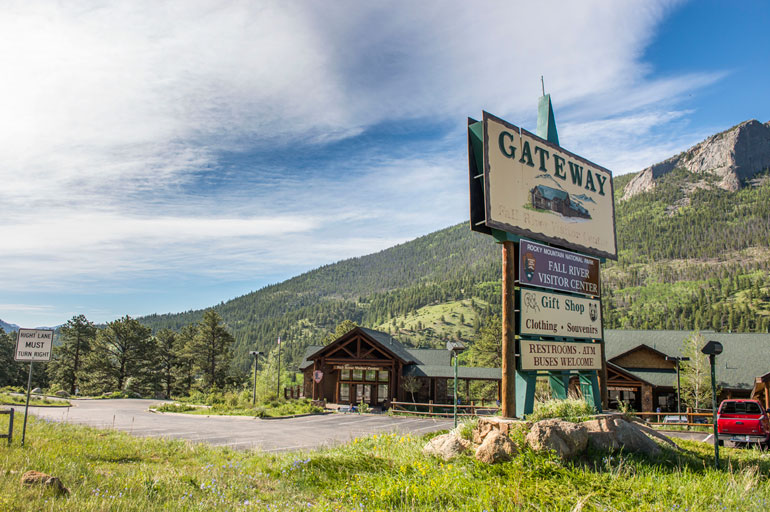 Enjoy a 2 hour ride through Rocky Mountain National Park with a dinner following the ride at the Trailhead Restaurant located at Gateway Fall River Visitors Center. Price of dinner ride is $50 plus a 25% discount on the full menu options (excluding alcoholic drinks) from the restaurant. The meal options include salmon, trout, wild game, steaks, pasta, salads, soups, wraps, & sandwiches, etc. Dinner will be ready to serve immediately following the completion of the ride.
At the Trailhead you may enjoy dinner and beverages, including regionally brewed and national brand beers, served from our Old West log bar. The experience of the Trailhead will be unforgettable as you dine surrounded by a panorama of towering mountains and the nearby seductive high peaks and forests of Rocky Mountain National Park. For those wanting a truly remarkable dining experience, try a meal on our expansive log and stone pillar open-air deck. For more information about Trailhead Restaurant feel free to check out: rockymountaingateway.net
2-Hour dinner ride with discount at Trailhead Restaurant
Departs at 4pm & 4:30pm: $50
Call to reserve your ride: 970-586-5269