Cowpoke Corner Corral Stables
CURRENTLY CLOSED (Opens again in May 2021)

Cowpoke Corner Corral is conveniently located, yet off the beaten path, just 3 miles from downtown Estes Park at the edge of Roosevelt National Forest at Glacier Lodge on Hwy 66 ( the road to the YMCA). The stable is nestled behind Glacier Lodge at the base of Giant Track Mountain. The trails wind their way up the mountain eventually reaching the saddle on our 3 hour ride.
Rides Available at Cowpoke Corner Corral: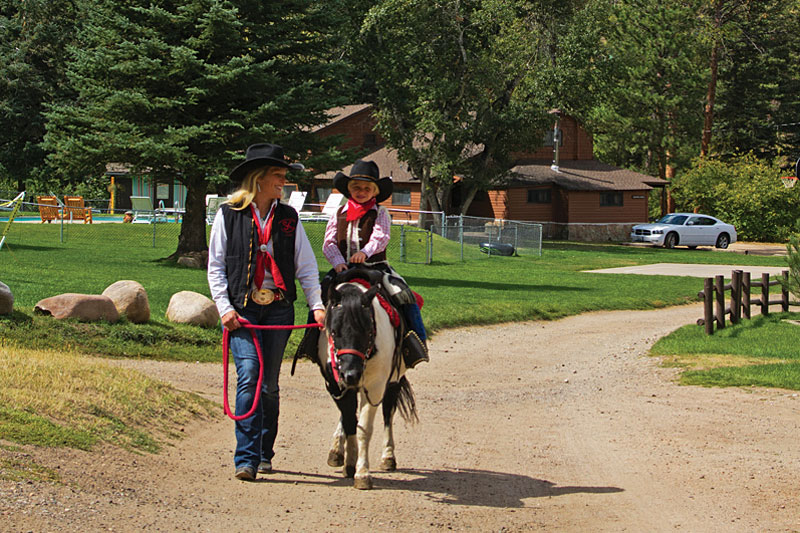 Your kids will have a blast with our pony rides. They will want to come back to ride again and again. It?s the perfect place to introduce your little ones to horseback riding and farm animals! Our ponies are well maintained, all rides are hand led, making the rides as safe and fun as possible. Appropriate ages for these rides are 2-7 years. Young children may need an adult or parent to walk alongside them. Stop in for a 10 minute or 30 minute ride. We do have a weight limit for our ponies, and any child over the age of 4 is able to ride by themselves 'in tow' behind the wrangler on our trails. (You must be UNDER 50 pounds to ride the ponies.)
30 Minutes around Glacier Lodge: $30
10 Minutes around Glacier Lodge: $20
Available daily from 8am to 4pm
No reservation needed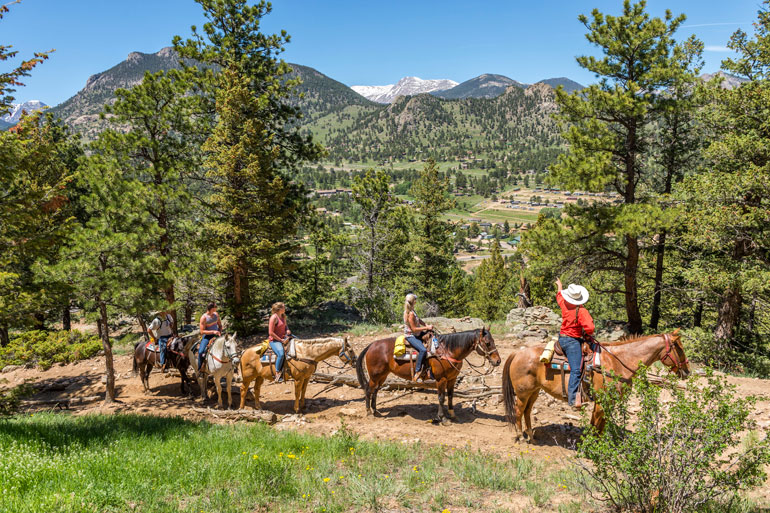 The one hour ride is geared for small preschool aged kids or people just wanting a brief taste of a horseback ride. Views of the Estes valley and a glimpse of the snowcapped mountains are seen on this tour.
1-Hour into Roosevelt Nat'l Forest
Departs hourly 8am-4pm: $60
Call to reserve your ride: 970-586-5890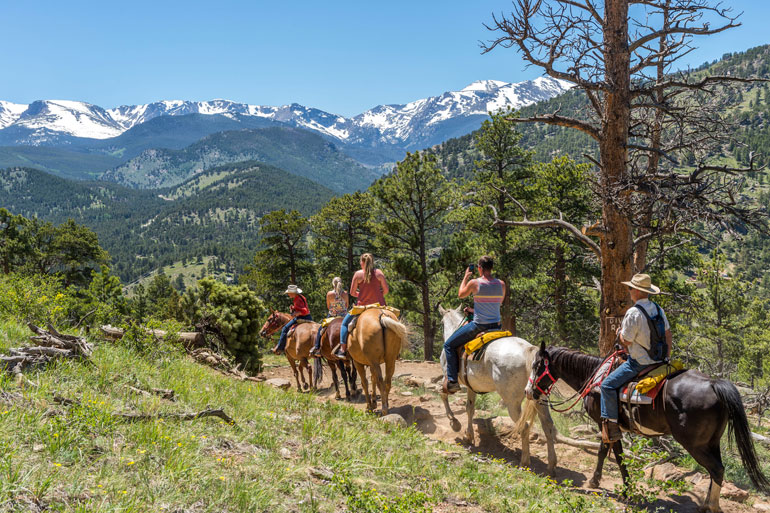 Our 1 1/2 hour ride is a popular ride for those wanting to get higher up the mountain but don't quite have time for 2 hours. This is a favorite compromise for limited budgets as well. The 1 1/2 hour ride reaches our favorite overlook and picture spot of the Continental Divide.
1.5-Hours into Roosevelt Nat'l Forest
Departs hourly 8am-4pm: $70
Call to reserve your ride: 970-586-5890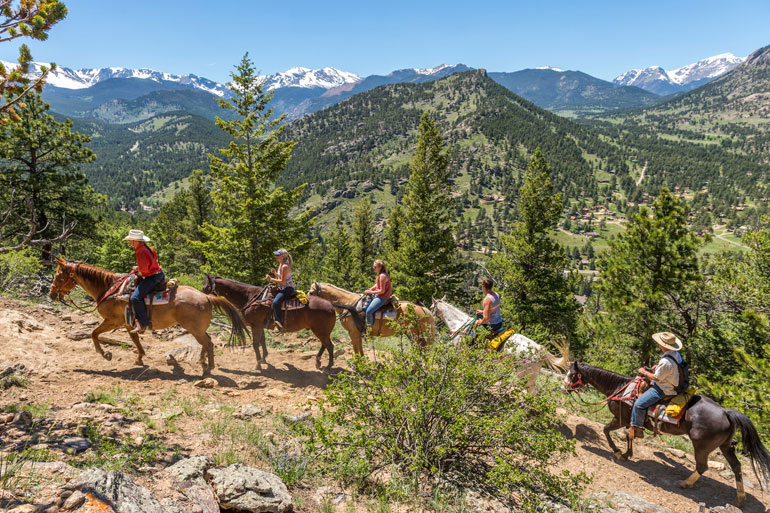 Our 2 hour ride is the most popular ride. It is excellent for all ages attaining an elevation that affords an impressive overlook upon Rocky Mountain National Park, the Continental Divide, and the Estes valley.
2-Hours up Giant Track Mountain
Departs hourly 8am-4pm: $80
Call to reserve your ride: 970-586-5890